This article explains how Forefront can help you identify students who are in need of extra supports and help teachers and interventionists to identify areas of need by looking at both classroom-level standards information and assessment-level reports.
Please note: Special education teachers and interventionists who need to be able to see individual student and classroom data across their buildings should be assigned the Building Leader role by their district manager. For special education teachers and interventionists working with students in just a few classrooms, teachers may also share their classes with them.
Classroom Standards Information to Identify Struggling Students
Look at the overall standards for a class by navigating to the Overview tab for a classroom.

You may drill into information by clicking on the names of the math domains and clusters. You may also sort by clicking on the sort button that appears on hover.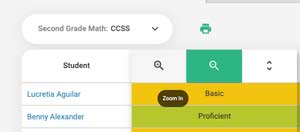 Select students of concern to study. Click on their names (hyperlinked in blue) to open the student profile view. See a sample of this view below. Click on the nodes of this dynamic visualization to view the body of evidence.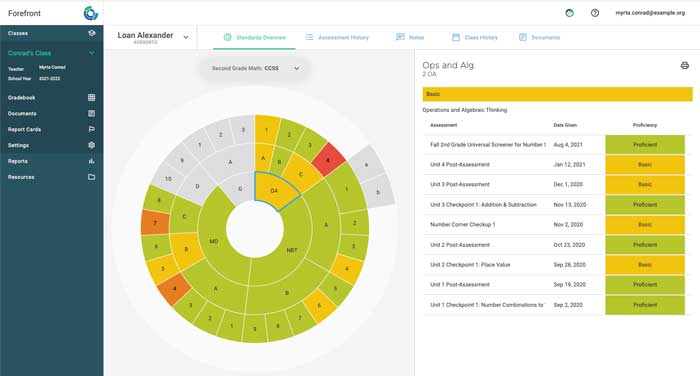 Questions to consider:
Where has this student experienced successes?
Where has the student experienced struggles?
What opportunities might there be to use strengths to support other areas?
Are there topics that should be reassessed/investigated?
What actions will you take? (e.g. refocusing on past topics, pre-teaching upcoming topics, intervention, targeted supports)
Using Assessment-Level Reports to Identify Struggling Students
You can view an assessment for a classroom as an item analysis, standards, or overall performance distribution report. There are two ways to navigate to a single assessment report. (Read more details about the Single Assessment Report here.)
From a classroom:
Navigate to the assessment that you wish to view by selecting the assessment name. Then select the Reports tab to view the report.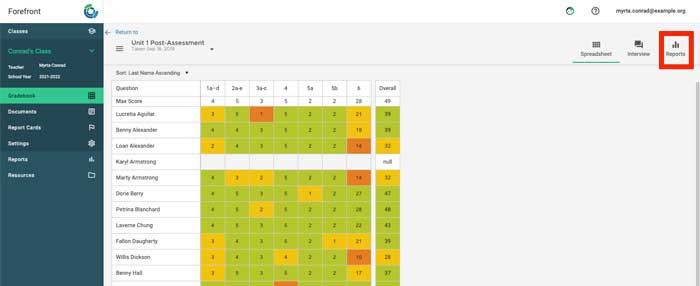 From the reporting suite:
You can navigate to the reporting suite in the left-hand navigation pane and select the Single Assessment choice to view results for one assessment.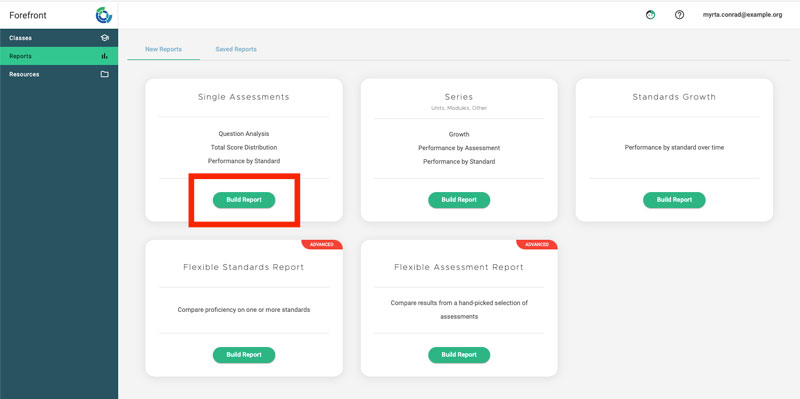 Analysis: Look at Overall Performance
Toggle the report option "Performance" to the right of the report to first view overall performance. This will help you to quickly identify students that struggled on the assessment. Hover over the bars in the graph to view student names.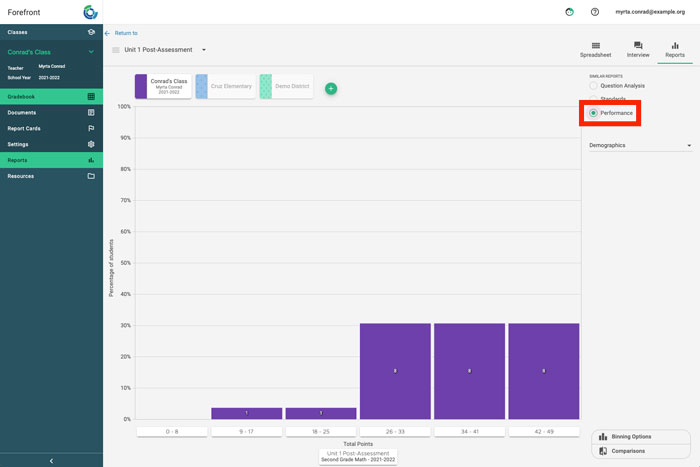 Note the names and overall scores of those students that are in need of increased attention. You may wish to add a cohort to the report, such as the grade level results for your school or district. If you are using one of Forefront's preloaded curricular assessment programs, you may also add a Global Cohort to put results into context.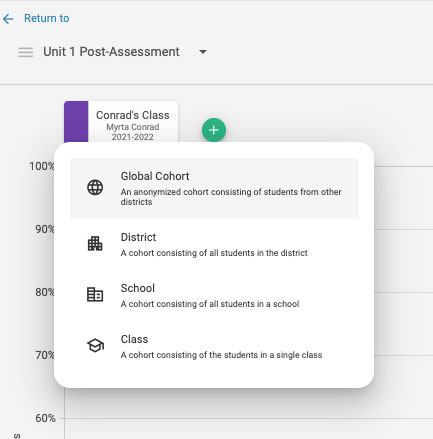 To add a group or cohort, select the plus icon and select the group you wish to add to the report. If school and district cohorts are already included in the report header, hover over the group or cohort you wish to add to the report and select the checkbox to add it to your report as in the example below.
Analysis: Look at Question-by-Question Performance
Once you have the names of those students that may need increased attention, toggle the report view to view the Question Analysis report. This will help you identify exactly where students struggled.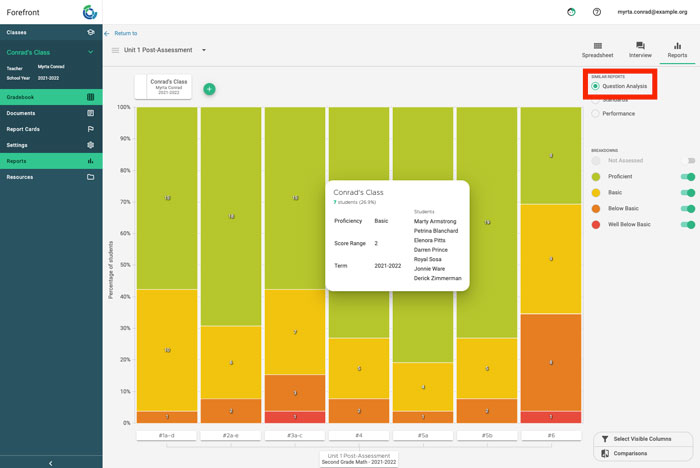 Hover over the report's bars to identify where students struggled. Which questions were most troublesome for students that you listed from the Performance report? If you need to view the question in the assessment, click on the column label on the bottom of the graph.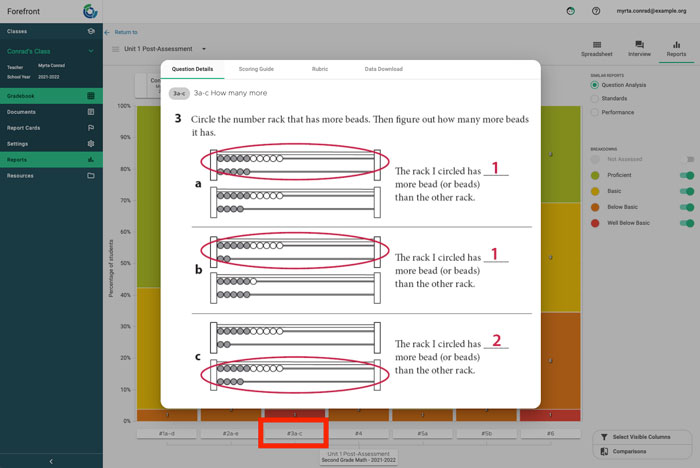 This will allow you to view the answer key if it is a preloaded solution or your district has built these details into Forefront. Additionally, having a physical copy of the student work can be critical for this work.
Questions to consider:
Which concepts and skills need attention? What are the goal(s)?
What will be the structure for working with those students (Who? When?  Where?)
How will you address those issues?
How will you know when those students have made progress?
Need more support?
Submit a support request or email our team at support@forefront.education.