This article explains how to add users manually, not using SFTP or an upload.
For returning districts or small districts, new teacher and administrator accounts can be created manually. If you would prefer to add many accounts simultaneously, please consult the article Manual Roster Uploads.
Step 1: Click "Create New User" button.
Navigate to the Users page by selecting the page from the left-hand navigation pane.
Select the "Create New User" icon to add a user.

Step 2: Fill out the fields to create new user.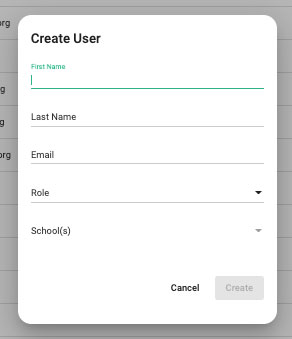 Note that only District Managers can create User accounts. If you do not have this role assigned and need to add users to the program, please contact your IT department or submit a request to our support team at support@forefront.education to have this role added to your account.
Need more support?
Submit a support request or email our team at support@forefront.education.