Forefront supports RtI/MTSS by helping teachers identify students who are in need of extra supports and pinpoint areas of need. Our program amplifies and simplifies the work of teachers to evaluate student learning and monitor their progress, making student learning directly linked to classroom instruction visual, but teachers still must analyze this learning and group students. This article and our knowledge base helps teachers working in Forefront to support RtI/MTSS explore key tasks from identifying students in need of additional supports to monitoring their progress against their grade-level cohort.
Identifying Students in Need of Supports
Teachers can examine classroom standards information by navigating to the Standards tab for a classroom. They can click on the hyperlinked names of students to open the student profile "wheel" view. See a sample of this view below.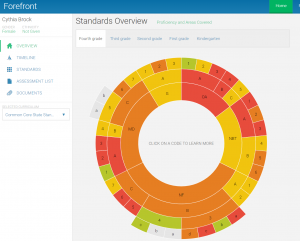 Teachers can interact with this visualization by clicking on nodes to view the body of evidence for a particular standard. The following questions can help frame an analysis:
Where has this student experienced successes?
Where has the student experienced struggles?
What opportunities might there be to use strengths to support other areas?
Are there topics that should be reassessed/investigated?
What actions will you take? (e.g. refocusing on past topics, pre-teaching upcoming topics, intervention, targeted supports)
Teachers can also use assessment-level reports to identify struggling students. The Achievement and Item Analysis Reports are single-assessment reports that help teachers identify students that struggled on an assessment and hone in on questions that were particularly problematic.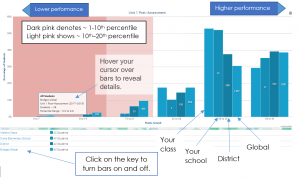 Note the names and overall scores of those students that are in need of increased attention. Then run an Item Analysis Report with the same assessment to see exactly where they struggled. Which questions were most troublesome for students listed above? Having a physical copy of the student's work can be critical for this work.
Next Steps:
Which concepts and skills need attention? What are the goal(s)?
What will be the structure for working with those students? (Who? When? Where?)
How will you address those issues?
How will you know when those students have made progress?
Grouping Students for Small Group Work or Interventions
Teachers can easily create a new group for intervention purposes or flexibly group students for small group work. For special education teachers or interventionists working with a group of students, they will need to be assigned the teacher role, so that they may create groups of students. Teachers select the "Create New Class" option when they first log in or next to their class name and follow the steps to create a new group of students.
Reports for Systematic Progress Monitoring
Once teachers have identified students based off of need and grouped them, there are a variety of reports to monitor student progress using classroom assessments.
The Growth Report can help you to see the relative growth of students, classes, schools, and your whole district.
If looking at groups of students by demographic information, the Demographic Growth Report shows the relative performance of demographic groups across a series of assessments. More demographic tags are coming in 2020-21, but for the 2019-20 school year, you can group students by gender, ethnicity, and English Language Acquisition status.
The Standards Performance Report can allow you to view performance by domains for a group of students and compare their performance to their grade-level cohort at their building or district.
If you used the Achievement Report to help identify students in need of additional supports, you may find the Achievement Comparison Report a useful tool to look at assessment-level achievement comparisons. Pull the report for a class (or group) of students and compare performance before and after an intervention or small-group work.
After analyzing the Achievement Comparison Report, the Item Analysis Comparison will break down student performance changes question-by-question.
Conclusion
Current Forefront users looking to learn more about how Forefront supports RtI/MTSS work can explore this topic in our support portal here. Those looking to explore more deeply how Forefront can put classroom assessments at the center of your RtI/MTSS work can contact us to schedule a live demo and conversation.
About us and this blog
Our team and tools help schools implement standards-based grading, streamline assessment systems, and use meaningful data to drive decision-making.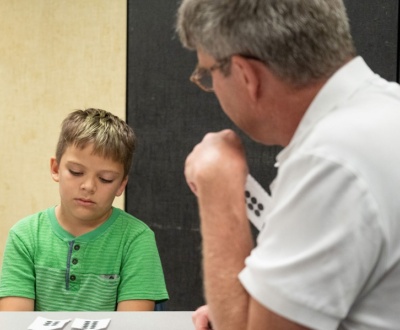 The first weeks of school are an exciting time! Yet many students also feel anxious at…