Using Data for Racial Equity in Schools

The Black Lives Matter (BLM) movement is highlighting injustice and racial discrimination in policing. Some districts are already taking strides to remove police from schools. Beyond the debate about police reform, this is a valuable time for us as educators to look at racism and racial equity in our own institutions.
Many of the changes needed are structural: from recruiting and retaining more teachers of color, to reforming biased disciplinary practices and tracking, addressing inequities in school financing, and adopting school integration policies to counteract the increasing segregation of our schools. These changes could greatly impact outcomes for young black students. A Johns Hopkins study, for example, found that black children that had just one black teacher before third grade were significantly more likely to finish high school and attend college.
Other changes require teachers to recognize and address their own implicit bias. As the majority of primary and secondary educators are white, it is critical that white educators learn to recognize their own bias to make sure that the expectations they set for their students, and the disciplinary tactics they adopt, are just and fair.
In addition to these systemic changes, districts can include racial equity in their school improvement processes. Below we outline one pathway on how to do so.
A Data-Driven Approach to Promote Racial Equity in Your District
Measure Opportunity Gaps in Your District
First, your district will need to collect information on the opportunity gap in your district between students of different racial groups. Only information that is formative (e.g. classroom assessments) can impact instruction. Summative data, including results from state tests, can highlight a gap but not provide actionable information for teachers. If your district does not have a system in place to collect this data, check out a demo of our own solution, Forefront®, linked here.
Although our data tools allow for districts to collect demographic data, only 38% of our user districts collect race information for at least half of students. This is compared to 82% of our user districts that collect gender information for at least half of students. This is a clear opportunity for districts to collect this information and take the first step to promoting racial equity.
Note that this article is focused on racial disparities between blacks and whites. Your district can also measure and monitor other gaps across other racial groups, as well as potential economic, gender, and English Language proficiency disparities.
Monitor Opportunity Gaps in Your District
Secondly, your district and school leadership will need to reserve time to examine and discuss opportunity gaps across racial groups. This is an opportunity to identify systemically areas where gaps grow or narrow. Here is a snapshot of what this looks like comparing white and black student performance for second grade students in the Bridges® in Mathematics program in Forefront®.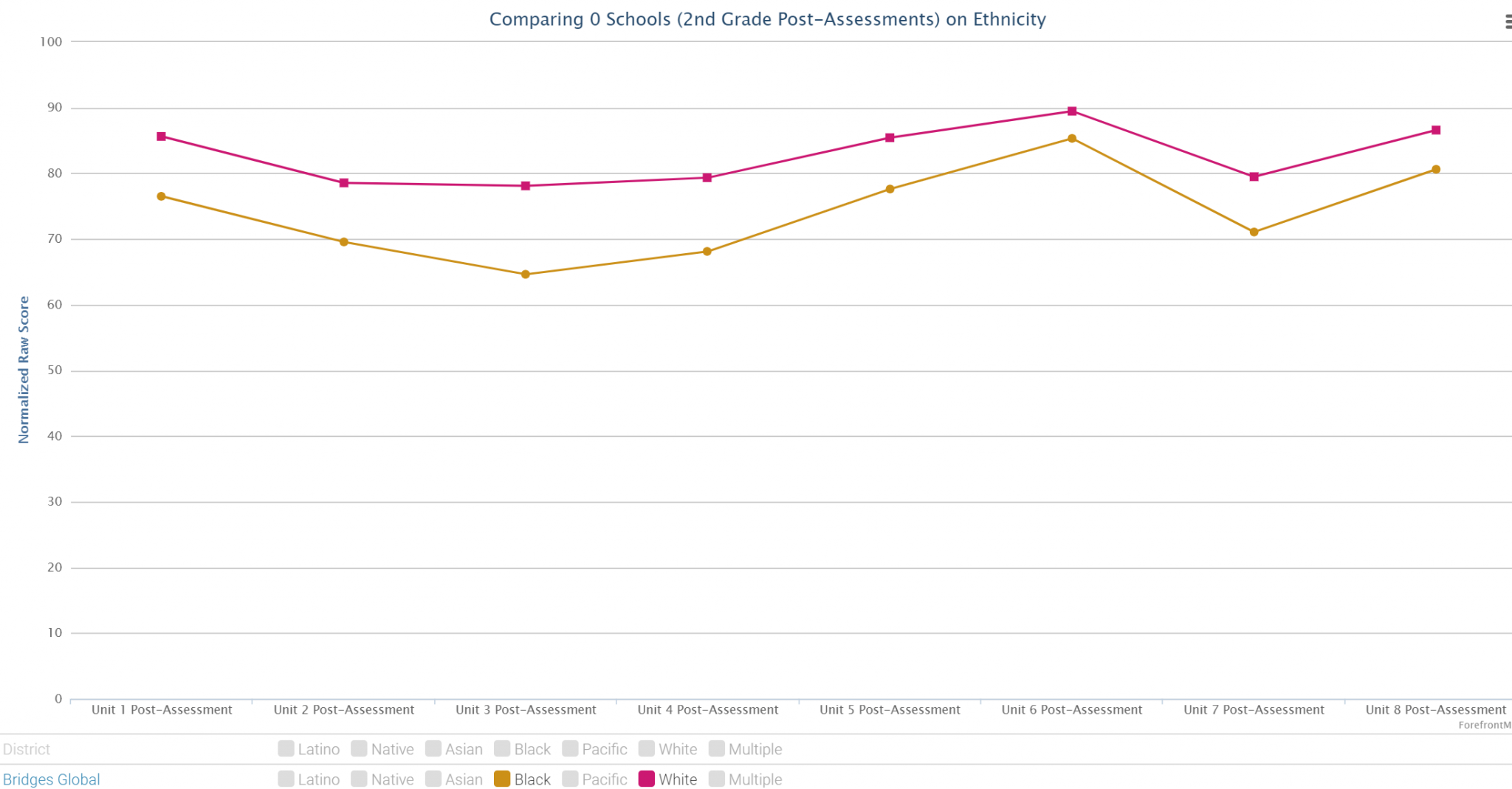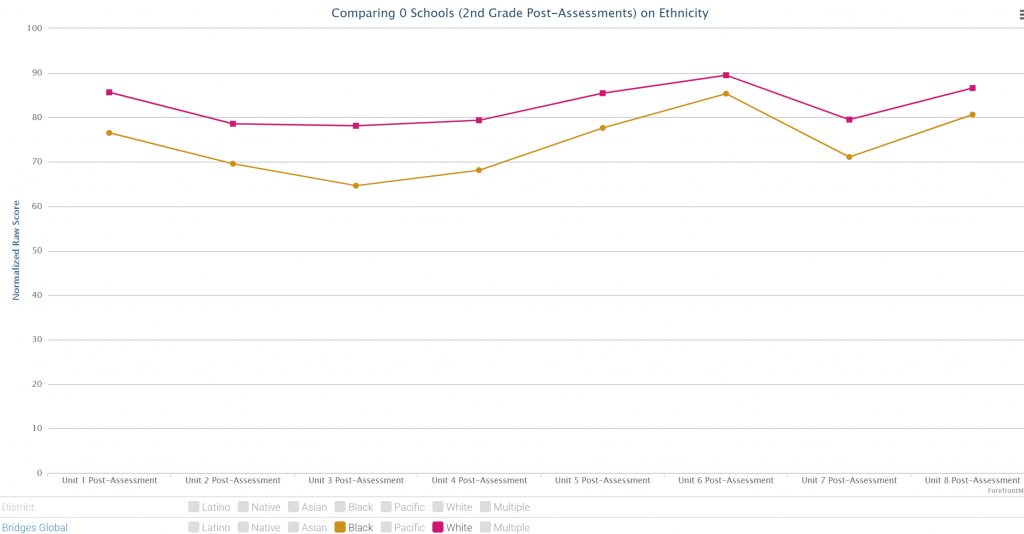 Here are some questions that can help drive these discussions:
Is there an achievement gap? Where does the gap narrow? Where does it increase?
Compare schools in your district or classes in a building. Which schools or classes are more successful at narrowing gaps? What are the conditions in the schools or classes that are leading to those successes? How can those successes be replicated?
Which schools or classes are failing to close gaps? Avoid criticism or name-blaming. Topics around race can be especially charged, but these conversations are meant to be constructive. Also do not focus on classes with a small percentage of black students. This is because the performance of individual students is highly variable and statistically irrelevant when trying to identify patterns in student achievement.
Which skills or units seem to emphasize performance disparities? Do disparities increase in certain skill areas or certain grades?
Conclusion
Some may see schools as the first step of the school-to-prison pipeline. They also operate within a greater context that marginalizes black, indigenous, people of color (BIPOC). The challenges that schools face to promote equity are as diverse as the challenges that students face at home. Nonetheless, schools have great power to increase equity by understanding and monitoring opportunity gaps in their buildings.
Timely student learning data is one powerful resource to advance equity. When your district collects assessment data, directly tied to classroom instruction, your teachers can identify concrete actions to daily issues. Challenge your educators to think about how they can close gaps unit by unit and lesson by lesson. Aggregate this data by racial category, and your district can identify the standards, skills and concepts that should be targeted. Lastly, evaluate this evidence over time. This will help your district determine if efforts to close the gap are successful or if your schools have systemic conditions that exacerbate racial inequity.
If your district uses Forefront and would like free training assistance on how to understand and plan to close gaps in your district, contact us today. If you are interested in exploring our tools to monitor student learning, check out a demo account or contact us to learn more.
About us and this blog
Our team and tools help schools implement standards-based grading, streamline assessment systems, and use meaningful data to drive decision-making.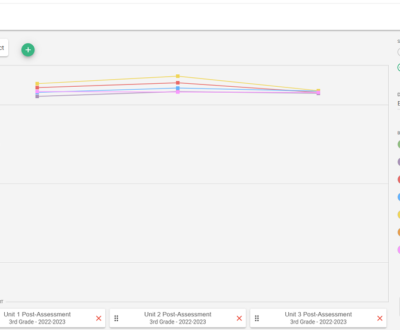 When state test results come in, your district leadership may be surprised by, or worse, nonplussed…