Unlock the Potential of Classroom Assessments
Classroom assessments are at the heart of every classroom, yet when it comes to systematic work, classroom assessments are underutilized. When the right conditions are set, classroom assessments can become central to school improvement efforts. They can also provide educators with more detailed, precise, and timely information to improve data-driven actions.
Here are six shifts that schools can make in order to maximize the usefulness and impact of classroom assessments:
Select or Create Common Assessments
The first necessary shift is to adopt classroom assessments to serve as common assessments across classrooms. Classrooms which teach the same content often already use the same set of texts that provide assessments. Modify these assessments as needed, but then ensure that the modified assessments are shared with other grade-level teachers for consistency. When teachers focus on the same learning goals and utilize the same assessment tasks, conversations become more efficient, and collaborative instructional responses become more obvious.
Promote Ownership
Whether publishers or fellow colleagues provide assessments, it is still important that teams of teachers review each assessment for the upcoming unit(s) of study. This is even more critical when there is a new curriculum or new teachers on a team.
Teachers need to be involved in the critical work of using assessment tools to evaluate student learning. Ideally, if there are quality issues or adjustments to make, modifications should be made and shared across teams. This ensures that a post-assessment discussion will focus on the learning that needs to take place in a classroom, rather than with the problems of the assessments themselves. When districts implement consistent classroom assessments across multiple schools this work becomes more complex. Nonetheless, include teachers so that everyone knows that their representatives are at the table. 
When teachers review upcoming assessments, they should also evaluate the assessment's alignment with daily lessons. Even curricular programs' assessments do not always match lessons well, especially given variations in instruction from classroom to classroom. For this reason, it is important to examine an assessment before instruction to ensure that the problem types, language, ideas, and visual models used in instruction align well with the assessment and with standards.
Allow for Flexibility When Proctoring
Classroom assessments are not, and should not become, standardized assessments. Classroom assessments help gather useful information. This means that teachers should provide differentiated proctoring for students. Teachers should also be active in their proctoring, making notes and recording observations, adding important details beyond what a child demonstrates on their pencil and paper assessment.
Take the example of a student who struggles to read a word on a math test. During classroom assessments teachers can and should provide appropriate support. The teacher should also document the issue, because this information could be a valuable insight into the student's learning. By helping the student get past this barrier, the teacher will help the student get to the mathematics that the task was designed to assess. 
Some teachers are very firm about the administration and scoring of assessments, so much so that they lose information in the process. As teachers administer classroom assessments, the goal should be to maximize the collection of information of what students can do and what they are still learning. 
Ensure Consistency of Scoring
In addition to agreeing on assessments that are consistent among teachers who teach the same content, it is important for teachers to utilize common scoring guides. Whether this is rubric-based or point-based does not matter as much as consistency from teacher to teacher.  
One issue is that teachers sometimes vary in their flexibility with regards to what they see as evidence of understanding. It is essential that they discuss these differences so that scoring across classrooms is more consistent. The following example illustrates a common scenario:
Teachers consider a task that asks students to read a clock that says 3:36. One student has answered 3:35.
Teacher A:  Well, that is wrong. The answer in the answer key says 3:36, not 3:35.
Teacher B:  Perhaps we can give partial credit? Because I have a student here who answered 7:03 and 3:35 is much closer to correct, right?
Teachers should feel responsibility for classroom assessments and the scoring of them. Encourage that teachers rely on their own judgement rather than considering answer keys as the sole authority for scoring an assessment. Additionally, encourage discussions around scoring to create school and district-wide norms that improve consistency from classroom to classroom. Assessments are a key tool for developing consistent understandings of what proficiency with grade level material looks like. Collaborative scoring of common assessments using a shared scoring guide is an effective way to ensure that all teachers hold students to the same rigorous expectations.
Ensure Alignment With Standards and Rigor
Classroom assessments must align with the standards and expectations that we have for students. It is important to know which standards/learning targets are being assessed. It is also important to consider the rigor and difficulty of the tasks that we present to students to ensure that the tasks match our expectations for students. 
Aligning assessments to standards makes the classroom assessments applicable for standards-based grading, puts the assessments into the larger scope and sequence, and improves communication about our expectations for learning and where our students are in relation to those big ideas rather than just the task at hand.
Ensure Consistent Reporting
In addition to a common scoring system, a common way of recording those scores is also necessary. This makes the results of classroom assessments easy to discuss. If one teacher is recording the item by item data and another is just recording the overall percentage, this is not helpful when trying to compare results across classrooms, much less to aggregate this information by grade-level for a school or district.
Consistent recording methods ensure that discussions about results can quickly turn to action. If you are interested in this topic, in this article I explore it further.
Conclusion
Classroom assessments hold a lot of untapped potential, including supporting collaborative and systematic work. By adopting the above shifts in practice, this potential can be released. The difference? Teachers' focus and instructional decision-making will improve, grading classroom to classroom will become more consistent, and data conversations will become meaningful for both teachers and leaders.
About the author, David Woodward:
David Woodward is the founder and president of Forefront Math, an entrepreneurial project that sprung from his many years as an elementary classroom teacher, coach, elementary math specialist, assessment designer, and leader of professional development.  With a Masters Degree in The Bilingual, Multi-Cultural Foundations of Education from the University of Colorado, David has a particular interest in the cultural and linguistic interactions in classroom that support deep understanding, equitable practices, and joy in learning.   Learn more about the company he founded and his background here.
About us and this blog
Our team and tools help schools implement standards-based grading, streamline assessment systems, and use meaningful data to drive decision-making.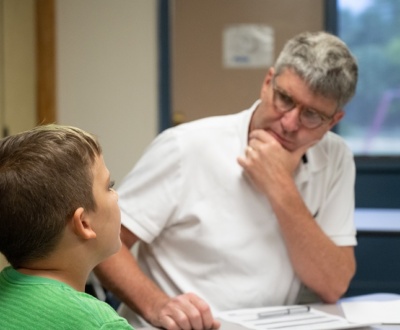 3 Minutes of Learning If you have about 3 and a half minutes, check out this…