Understanding Proficiency Calculations
Understanding Proficiency Calculations
This article explains how Forefront calculates standards-based proficiency.
Forefront is built with the ideas of standards-based/standards-aligned grading and reporting in the very DNA of the platform.  Each and every assessment is fully aligned with standards to the greatest detail possible.  Progress toward proficiency, as it is visualized throughout the platform, uses these alignments.
Recent evidence matters most. 
In order to reflect that fact, Forefront applies a weighted average to assessment results that heavily weights the most recent results.
To accomplish this, Forefront's proprietary algorithm utilizes the date of the assessment and applies an algorithm to define the dissipation of the influence of older results:
An assessment given today would receive the full weight.
Results that are 2 weeks old are weighted at one third what the most recent
information is weighted.
Data that is 3 weeks old is weighted at a quarter of the new data.
Older evidence continues to become less and less influential on the overall
representation of progress toward each standard.
After 2 months any new results completely write over the old results.
Here is a representation of the rate of dissipation of weight over the first 3 weeks. This curve is defined by the expression on the right.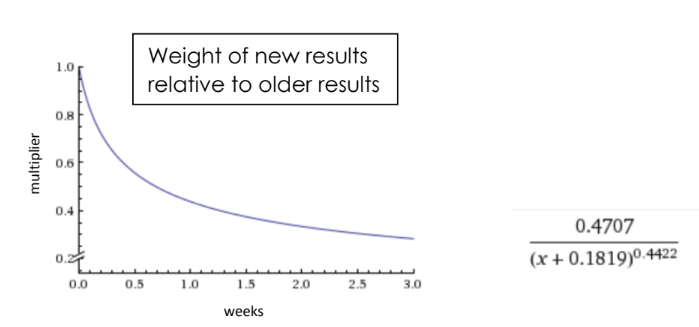 Forefront's recency calculation is not just based on time, but is a weighted average that factors the time/date of data into its calculation. For example, if a student is assessed today for a particular standard that s/he was assessed for over two months ago, the new results would replace the old results. This is so that, should a student first be assessed for a standard and show little or no proficiency (e.g. a 0 or 1), but then over the course of one or two modules show mastery (e.g. a 3), s/he would be considered proficient.
If there is no new data or information for a particular standard, then older data is what is represented in a student's proficiency score. For example, if a student was assessed for a particular standard in one unit four months ago, but not assessed again for that standard in the following units, the student's proficiency score for that particular standard would be from that data that is four months old.
This method of applying a weighted average defined by recency honors the importance of student growth and calculations take place standard by standard. Evidence from each standard is averaged to determine progress at the cluster level and cluster progress is averaged to determine proficiency at the domain level.
Need more support?
Submit a support request or email our team at support@forefront.education.