This article explains how Forefront calculations standards proficiency.
Understanding Forefront's Recency Weighting Algorithm
The DNA of Forefront is built for the ideas of standards/targets/strands based assessment, grading, and reporting.  Progress toward proficiency, as it is visualized throughout the platform uses standards/targets/strands as lenses for understanding and communicating about student performance.
Forefront can be customized to utilize any number of calculation processes for calculating current performance.  Forefront's Recency Algorithm described below is the default algorithm for most assessment systems.
Forefront displays progress by standard throughout the platform for individuals and cohorts of students.  For example, in the Student Wheel view (shown below) which displays a single student's performance relative to the domains (inner ring), clusters (middle ring) and standards (outer ring) of 2nd grade CCSS mathematics.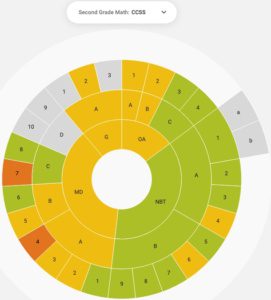 Recent evidence matters most. 
In order to reflect this fact, Forefront's default algorithm applies a weighted average to assessment results that weighs the most recent results heaviest.
To accomplish this, Forefront's proprietary algorithm utilizes the date of the assessment and applies an algorithm to define the dissipation of the influence of older results:
The most recent evidence gets a full weight.
Results that are 2 weeks older are weighted at one third what the most recent information is weighted.
Data that is 3 weeks old is weighted at a quarter.
Older evidence continues to become less and less influential on the overall representation of progress toward each standard.
After 2 months any new results completely write over the old results.
Here is a representation of the rate of dissipation of weight over the first 3 weeks. This curve is defined by the expression on the right.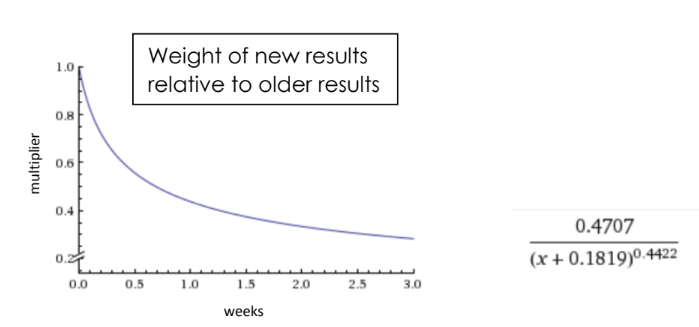 Forefront's recency calculation utilizes the date of the assessment (as reported by the teacher) into its calculation. For example, if a student is assessed today for a particular standard that was previously assessed over two months ago, the new results would completely eclipse the old. However, if a student was assessed on a standard three days in a row, the three data points would be almost averaged with a skew in weight to the most recent.
Any assessment can be excluded from calculations by the teacher. Assessments can be configured by the district to be excluded by default. Read about excluding data from proficiency calculations here.
This method of applying a weighted average defined by recency honors the importance of student growth and calculations take place standard by standard. Evidence from lower levels of standards are averaged to determine weights for higher levels.  For example, in the Common Core systems, standards are averaged to determine cluster level performance, and cluster level performance is averaged to determine proficiency at the domain level.
Need more support?
Submit a support request or email our team at support@forefront.education.