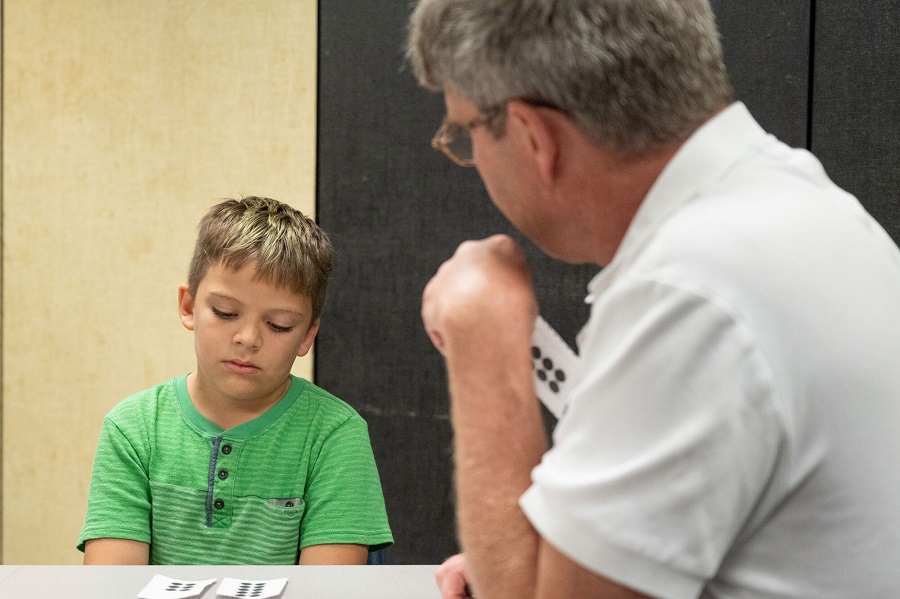 The first weeks of school are an exciting time! Yet many students also feel anxious at the start of a new school year, especially if they are changing schools or returning to school after an extended period of school closure. It's important to conduct the Fall USNS by October, but don't rush it. Spend some time building caring and trusting relationships with your students. Then use the following suggestions to keep students' social-emotional needs in mind so that you can get the most out of the Fall USNS interviews.
Planning Each Interview
You'll learn a lot about your students during the early days of the school year. You'll get a sense for their unique needs, strengths, and dispositions. Use what you learn about each child to make a plan for conducting interviews. 
Begin with students who seem more comfortable being in school. Students who are feeling anxious or unsettled will benefit from some extra time to ease into the school year.

If you notice that a student has difficulty maintaining stamina in the afternoons, plan to interview them in the morning. On the other hand, students who need time to settle into the school day might do better with an afternoon interview.

Sitting across from each other at a table or desk can increase a student's stress. Consider conducting interviews while sitting on the floor or sitting side-by-side.

Consider giving students something soothing to touch during the interview. Depending on health and safety protocols in your school, such items might include a soft rug, a fuzzy pillow, soft pieces of cloth for use by just one student, a stuffy from home, or a fidget that can be sanitized between students. Use your best judgment about what will be soothing without being distracting.
Preparing Students to be Interviewed
Introduce the interview process to the entire class. When students understand the purpose of the interview and have a clear sense of what to expect, they will feel more comfortable and you will get better information about their mathematical thinking.
Explain that an interview is a special kind of conversation in which one person asks the other person questions to learn more about them. During these interviews, you will ask questions about math and students will answer those questions.

Explain that you will ask everyone the same questions and that it is OK to be wrong, to not know, and to feel unsure. The purpose of the interview is for teachers to learn about students. All answers give you information that will help you be the best teacher you can be for them.

Let students know that you won't say very much during the interview. You'll ask a question and then be quiet. This is really different from how you normally talk with students. It doesn't mean that anything is wrong! It just means that you are ready to listen carefully to their ideas.

Express positivity and curiosity. Many students are aware that adults have some anxiety about students' learning during the pandemic. It's important to convey to them that we are interviewing them not because we are worried, but because talking directly with them is the best way to learn about them and become better teachers. We do this because we care about them and are interested in how they learn and think about math.

Many of the interviews involve counters or other simple materials. Let students know they can touch and move these materials if they want to. Give them time to explore the materials ahead of time, for example, during centers or choice time in the first weeks of school.
Putting Students at Ease During the Interview
Many students are excited and eager to spend one-on-one time with their teacher! They have the sense that this time is special and that their teacher treasures them and cares about their ideas. Others feel nervous and can even feel scrutinized by having so much focus directed only at them. You can make a number of moves that will put all students at ease and help them feel cared for and honored during the interview process.
Be prepared. Now more than ever, students need to feel that the surrounding adults are steady and dependable. You can convey confidence to students by having your materials prepared, reading the scoring guide ahead of time, and practicing the interviews.

Begin with students who are more easygoing. This will allow you to develop a fluency with the process before interviewing your more reticent or anxious students. Your confidence will go a long way toward putting these children at ease.

The lack of feedback from the teacher during an interview can be unsettling for some students. Use your best judgment about offering reassurance and feedback during the interview to put children at ease. An occasional "great job" or "you're doing great" might be helpful. 

Let students know what to expect frequently. For example, you might let them know that there are just two more questions left in the interview. Or, you might let them know that the next two questions involve counters that they are welcome to touch and move however they like. 

If students are reluctant to meet with you, you might ask them to suggest another time that they would like to do the interview. Make a plan together and stick to it. You might also determine that simply offering a small reward (feeding the class fish, getting out some blocks they wanted to explore) when the interview is over motivates a reluctant child to focus.

Give reluctant children appropriate choices about the interview. For example, invite them to choose between two seating arrangements or select one of three comfort items they would like to hold. Giving students the opportunity to control some elements of the process can help them feel more comfortable.

If a child is especially anxious or having a really difficult day, postpone the interview if possible. Attempting to press ahead through a child's distress is unlikely to result in reliable information about their math thinking.
Concluding the Interview
While all interviews follow the same script, you can be more personal in how you conclude each interview. You might offer a child some positive reinforcement or ask a more open-ended question. Even small moves like those described below can convey that you care about them as individuals with unique gifts.
Invite each child to ask any questions they have at the end of the interview. For example: "Is there anything else you want to tell me or any questions you want to ask me?"

Thank the child for spending time with you and answering your questions. Reinforce that you enjoyed your time together and that you learned a lot about how to be a good teacher for them.

Have something available to occupy the child at the end of the interview (a few blocks or counters). This can give you just a few moments to jot down a few extra notes and observations from the interview before you forget.

If appropriate, offer reinforcement or reflections that emphasize the child's strengths. For example, "I noticed you changed your answer while you were explaining your strategy and I was really impressed! That's what strong mathematicians do." 

You can also invite the child to reflect or provide feedback for you. For example, "I know you were feeling nervous about doing this interview. But you did a great job! What helped you feel less nervous? And is there anything else that can help as we do more math together this year?" Let them know you'll check in with them again at another time too if they want more time to think about your question.
About the author: Martha Ruttle, M.Ed., has committed her career to ensuring that mathematics is accessible and enjoyable for all students—inclusive of all backgrounds, readiness levels, and learning styles—and to helping teachers improve their confidence in and enjoyment of teaching mathematics.