Addressing Number Sense as a Whole Group, Small Group or One-on-One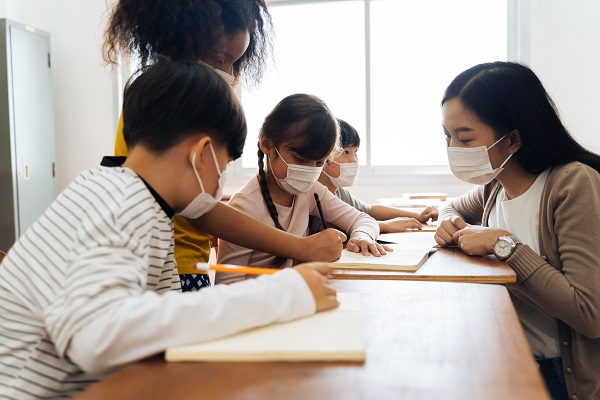 When looking at results of the Universal Screeners for Number Sense, I have been asked questions about which things should be addressed in small instructional groups or when something is better addressed as a whole class lesson. Although it depends, the below are general guidelines as to when to respond instructionally with a whole class versus small groups or individuals.
Whole Group
Any question where half or fewer of your students demonstrate full proficiency indicates a topic that should be addressed as a whole group. Short games, number talks, warm-ups, or other quick activities are usually best.
Counting is an area where whole group instruction should continue for even longer. Counting is best learned as a group. As the group grows in fluency with their counting, everyone benefits. Counting should be a part of daily routines at least through 2nd grade. Keep counting practice in whole groups short. Whole group counting sessions should generally be just 5-10 minutes.
Number talks, number strings, Splat, and other similar mental math activities also should be a part of every classroom. Work until all students can solve appropriate mental math problems. These kinds of activities build community, promote flexible thinking, and language development. Once again, it is usually best to keep these kinds of routines quick, and frequent.
Small Group
There are times when it is critical to form small groups to provide targeted instruction and assign targeted practice. For example, teach numeral identification in small groups or one-on-one. A short amount of drill and practice with reading and listening for numbers can have a huge impact very quickly. Some students just have never had the opportunity to sit with someone and practice reading numbers. Students who can read numbers in other languages sometimes need particular types of supports. For students who struggle with differentiating between -ty and teen numbers, targeting those numbers in a small group or one-on-one is especially important.
Students benefit from small group instruction to support their overall growth in the large group. This is also true for counting and mental math. Sometimes kids need a boost to keep up with the group. You do not want kids to get left behind and disengage. On the other hand, you do not want students to shy away from new challenges. Small group work can better prepare students for the larger group work.
Individual Targeted Instruction
Every kid has something that they are working on. When teachers understand students well, they also know the questions that will help to push them forward. Some students need focused attention on critical skills and concepts. In this case, targeted instruction is necessary.
The delivery of this targeted support can vary widely. For example, some students may need to sit and discuss tricky problems like 42 – 4, whereas others need to explore how to solve a problem like this with manipulatives. These types of lessons can be excellent for developing concepts and supporting cognitive development.
Sometimes, especially for certain number sense skills, teachers can utilize tactics that I refer to as micro-interventions. Good examples of individualized targeted instruction that do not require a pull-out or special scheduling include numeral ID, counting, and fact fluency. Take for example the following scenario: A kindergarten student has trouble reading the number 5. A micro-invention could be that the teacher writes the number 5 on a card and whenever a small moment presents itself during a transition, reviews the number with the student, "What number is this?"
A Note About MTSS
The tiers of Multi-Tiered Systems of Support (MTSS) and Response to Intervention (RtI) are sometimes equated with whole group, small group, and individual instruction. Although there is a connection between the ideas, small group does not always indicate Tier 2 nor does individual attention indicate Tier 3.
The distinction between these tiers is important. A helpful distinction between these tiers is a high-quality responsive instruction and Tier 2 is in the data. When a teacher or team of teachers decides on a goal for a small group of students and puts an assessment plan for the goal into place, then it is Tier 2. Tier 2 also suggests that these planned assessment results will inform decision-making, collaboration, and communication. Another strong indicator of Tier 2 is when homes have been notified about the targeted learning goal(s).
Tier 3 starts when a larger team from the school is involved in the decision-making process. At that point, the process has become much more formalized. Goal-setting becomes longer term and multi-faceted, including interrelated social emotional and math content goals.
Certainly, small group and individualized targeted instruction are excellent ways to address the goals of Tier 2 and 3 interventions. However, the MTSS/RtI Tiers are best understood as an incremental increase in formality, not dependent on the group size.
Final Thoughts
The Screeners are quick assessments that help to identify skills and concepts that indicate readiness for grade level math content. Additionally, they help identify class-wide trends to address and students who would benefit from additional supports. The instructional responses will depend on how many students demonstrate understanding of a given topic as well as the skill/concept itself. Teach certain skills in small groups or one-on-one. Providing individual or small groups of students with the skills and concepts they need to participate with the whole group is the ultimate goal. Often, practicing essential number sense topics with individual students can give them not only the ability but the confidence to participate in whole classroom instruction.
Looking for more instructional ideas? Explore our recent article on A Blueprint for Recovery in K-5 Math.
About the author: David Woodward, Founder and President of Forefront Education, has more than 25 years of experience in education as a classroom teacher and district leader in math education. He founded Forefront Education to help educators better understand student learning with classroom assessments and support standards-based grading that is automatic, accurate, and reliable.