"Forefront has provided me with meaningful data that allows me to effectively collaborate with fellow teachers in my building."
"Forefront is a robust data tool that enables our teachers to dive deeper into which standards their students are struggling with."
Purchase Forefront® with Alabama State Funds
Alabama's Elementary Mathematics Task Force Recommends the USNS as an Early Numeracy Screener for K-2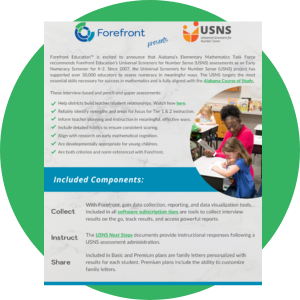 With the recommendation of Forefront Education's Universal Screeners for Number Sense (USNS) assessments, you can join over 30,000 educators to assess numeracy in developmentally-appropriate and meaningful ways:
The USNS target the most essential skills necessary for success in mathematics and are fully aligned with the Alabama Course of Study.
With Forefront, gain data collection, reporting, and data visualization tools that turn assessment results into powerful insights.

The

USNS Next Steps

documents provide instructional responses following a USNS assessment administration.

Included in Basic and Premium plans are family letters personalized with results for each student. 
Download a free, informational one-pager to learn more about Forefront's Universal Screeners for Number Sense and how they can help Alabama educators improve student learning.