Welcome to the 2023-2024 school year! This article outlines reminders and updates important for Forefront users this fall, and is a follow-up to this linked webinar held August 15, 2023. 
3 Things From Last Year We Want to Make Sure You Know
While the following features are not all new, they are each worthy of note.
Bridges Printable Progress Reports and Math Domain Reports
Forefront's Printable Documents feature is a great resource available for both Basic and Premium subscription plans. Specific to Bridges this year is an update to their unit letters and math domain reports.
Autopopulate Data in the Data-Entry Spreadsheet
Autopopulate a spreadsheet or task with the maximum point value and then modify individual cells or student rows to expedite data entry. To autopopulate the entire spreadsheet, select the three dots in the upper right-hand corner of the data entry view and select "Set empty scores to max."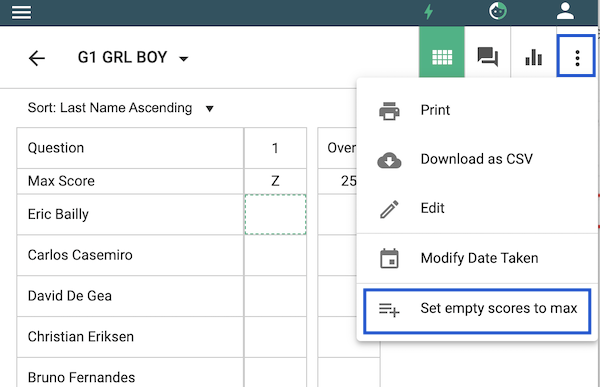 If you wish to just set the score to max for a specific question or task, right-click on the item number and select "Set empty scores to max."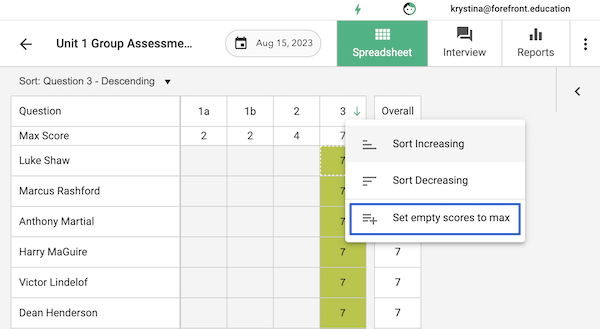 To set scores to max by student, or reset the row data, right click the student name and select the relevant menu option.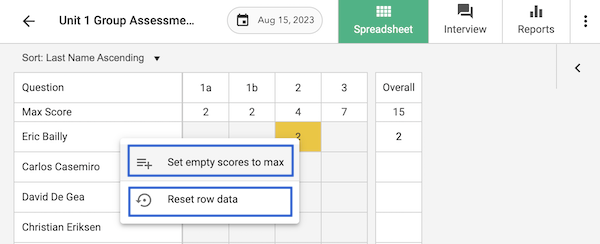 Forefront Supports Multi-Subjects (Premium)
Forefront Math is now Forefront Education and we are happy to offer solutions across contents. To learn more about expanding your account to include multiple subjects, reach out to support@forefront.education today.
7 Things Returning Forefront Users Should Know
Meet Krystina, Customer Support Specialist, and Forefront's Newest Team Member
Reach out to Krystina by emailing support@forefront.education, or via Forefront's chat support (during business hours), to address immediate concerns about the software, learn more about its features, or ask any clarifying questions you may have about functionality.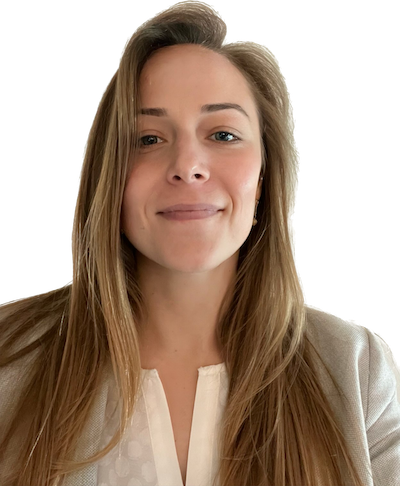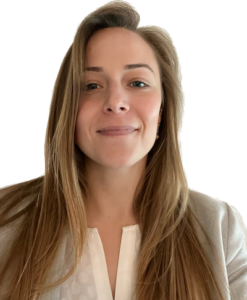 A former teacher, instructional coach, and school leader, Krystina is excited to help educators make the most of their Forefront experience.
We Now Support Rostering with Clever
Rostering solutions are elaborated in our knowledge base here. Clever roster syncing is an additional per-site charge for Basic and Premium Plan subscribers. Reach out to support@forefront.education to connect with a team member about rostering with Clever.
We Have a New Reporting Suite
Learn more about the new reporting suite by watching this General Overview video by Anna Grace. For a brief teacher introduction, watch this video on how to access the new reporting suite from the spreadsheet view.
If, when you log in, you do not see an icon for Reports NEW, reach out to support@forefront.education so we can enable this feature in your account.
We are incredibly excited about the new reporting suite and look forward to developing additional resources for your support!
We Have Dashboards
Work with our team to develop data dashboards that meet the needs of your school and district. More resources are coming for this feature and will be available here.
We Can Ingest Third-Party Data (Premium)
Forefront supports ingesting third-party assessment data for Premium clients.
Review this resource to learn more about Sharing Your Renaissance Data.
Reach out to support@forefront.education to connect with Customer Success about this feature.
We Can Customize the Appearance of Folders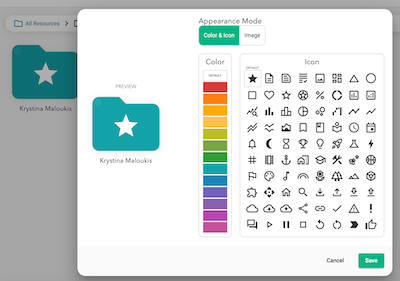 Access options to modify the appearance of folders by right clicking on the folder and selecting 'Modify Appearance' from the drop down menu. You may choose from a variety of colors and icons provided, or you have the option to upload an image of your choosing.
We are Configured for Illustrative Mathematics
Forefront is now configured for Illustrative Mathematics. Reach out to support@forefront.education for more information about adding this instructional program to your account.
Additional Resources