Standards-based Grading to the Forefront
A special series of four, live, web-based professional work/learn sessions to collaborate directly with Forefront Education's President to implement or refine your standards-based grading system to make it manageable and meaningful.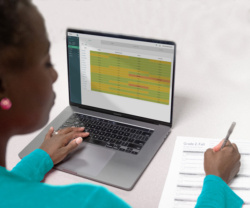 Implemented well, a focus on standards-based or mastery learning can improve student outcomes, enhance parent communication, and focus efforts. This collaborative series of four working sessions with Forefront Education's team, led by President and Founder, David Woodward, will ensure that our tools are configured to speak your district's language around standards-based grading to make your implementation successful from preparing the assessments to sharing student progress with parents.
Learning Outcomes
Learn how Forefront puts standards-based learning into focus and supports standards-based learning
Prepare your assessments for Forefront
Learn to use the Forefront assessment builder to create and/or modify assessments
Learn how to configure courses for ease of teacher use
Successfully configure your report cards with the report card builder
Identify and develop parent communication tools for leading standards-based conversations
Duration
Four 1.5-hour live sessions, 1-hour discovery call*, and three 1:1 follow-up consultations
Who
Up to 12 school and/or district leaders leading the standards-based grading implementation or refinement
Price
This web-based session is $5,000 for Forefront clients. On-site pricing may be provided upon request.
*In preparation for the live session, connect with our team for a discovery call to ensure that the format and content align with school/district work, systems, and initiatives.
The 30 minute Getting Started for Teachers webinar introduces teachers new to Forefront's tools…