School Improvement to the Forefront
Collaborate with Forefront's leadership to inform your school improvement processes with your Forefront data in this 2.5-hour working/learning session.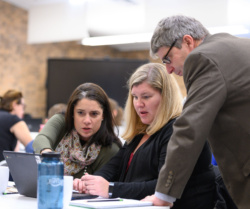 Work directly with David Woodward, Forefront Education's President and Head Presenter, in this 2.5-hour web-based learning session. David will guide your instructional leadership on how to use Forefront to set goals and monitor progress. As a continuous process, gain knowledge on how your Forefront account can help keep a pulse on your school and classes, making goal setting and monitoring meaningful and effective.
Learning Outcomes
Identify historic assets and needs based on your data in Forefront
Learn to build, share, and curate reports to monitor goals
Establish a meaningful and manageable plan for monitoring, reflection, and responding
Duration
2.5-hour live, web-based session and 1-hour discovery call*
Who
This session is intended for up to 12 school and/or district leaders. It is ideal for districts that have collected at least one semester of assessment results in Forefront for an instructional program or core-curricular content.
Price
This web-based session is $1,800 for Forefront clients. On-site pricing may be provided upon request.
*In preparation for the live session, connect with our team for a discovery call to ensure that the format and content align with school/district work, systems, and initiatives.
The 30 minute Getting Started for Teachers webinar introduces teachers new to Forefront's tools…